5 Top Things to Do in the Florida Everglades • Authentic Florida
Last Updated on October 3, 2022
We're spotlighting the best things to do in the Florida Everglades. Our friends at WUCF covered a lot of historical and interesting facts in their Everglades episode of Florida Road Trip.
Additionally, we highlighted some of our favorite spots in the Florida Everglades in this Authentic Florida article: https://authenticflorida.com/exploring-the-extraordinary-florida-everglades/.
The bottom line, no trip to South Florida is complete without a visit to Everglades National Park. The area covers 1.3 million acres of subtropical wilderness that protect numerous rare and endangered species like manatees, American crocodiles, and the Florida panther to name just a few.
Since Hurricane Ian paid an intensely unwelcomed visit to this area at the end of September 2022, we recommend checking with NPS.gov for the latest updates before exploring this treasured area.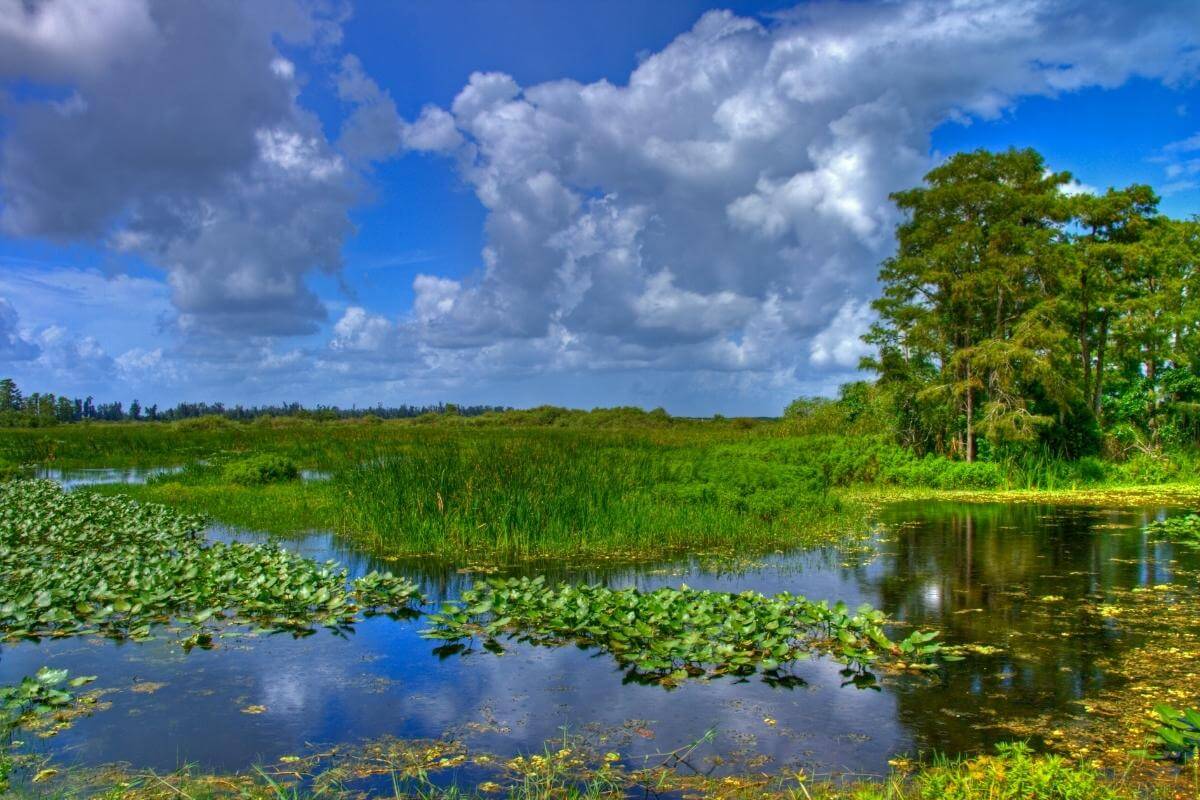 Here's what we know now in the aftermath of Ian:
 Everglades National Park reopened certain areas of the Park, including: 
Shark Valley entrance (Shark Valley Visitor Center)
Airboat tour operators along Tamiami Trail 
Homestead entrance and the Main Park Road for 25 miles to Paurotis Pond until the Park reopens the Flamingo area.  
Flamingo Visitor Center
These Everglades areas remain closed: 
Gulf Coast Visitor Center and Everglades City main entrance  
Main Park Road, south of Paurotis Pond 
Wilderness and front-country camping 
Caution:
5 Top Things to Do in the Florida Everglades
1. Visit the Roadside Hamlet of Ochopee
Located between Miami on the East Coast and Naples on the West Coast, the town of Ochopee started as a one-family tomato-farming community in the early 1920s. 
A few of the best places to visit in Ochopee include the Smallest Post Office in the USA, Skunk Ape Research Headquarters, and Joanie's Blue Crab Cafe.
Ochopee Post Office 
Collier County's history comes in all shapes and sizes, which is undoubtedly true for the Ochopee Post Office. Considered the smallest post office in the country, this post office is approximately eight feet high, four inches deep, and seven feet wide.
After a night fire in 1953 burned down the old Ochopee post office and general store, postmaster Sidney Brown quickly repurposed the tomato farm pipe shed on US-41. It has been operational ever since and has become a bit of a roadside attraction.
TIPS:
The post office is open six days a week.
It runs a 170-mile route sending mail to about 300 people who live on the outskirts (in three different counties).
Request the famed Ochopee postmark when you visit!
In addition to being a mail center, they also sell tickets for Trailways and bus lines.
There's usually one mail carrier on duty & it's a tight squeeze to fit an additional person.
It makes a great photo for your social media pages.
Location: 38000 Tamiami Trail E, Ochopee, FL 34141 Phone number: (239) 695-2099
Skunk Ape Research Headquarters
If you weren't aware, Skunk Ape is the Bigfoot, Sasquatch, or Yeti of the South East. Whatever you choose to call it, this is a quirky little roadside attraction in Florida you won't want to miss.
The Skunkape headquarters is located at the Trail Lakes Campground on Highway 41 in Ochopee, 15 miles south of Interstate 75 (old Alligator Alley) and four miles east of Highway 29. To put it into perspective, it's 36 miles east of Naples and 60 miles west of Miami.
TIPS:
The hours of operation are 7 days a week from 9 am – 5 pm.
Interested in a guided tour? Check out https://www.skunkape.info/tours.
If camping is your thing, check out: https://www.evergladescamping.net/.
Animal Exhibit includes "Goldie," a 24 ft, 400 lb Python, one of the most giant known snakes in captivity.
They have an online store worth checking out: https://www.skunkape.info/shop.
They offer a variety of Everglades tours that can be customized based on your interests.
Location: 40904 Tamiami Trail E, Ochopee, FL 34141 Phone number: (239)-695-2275 Email: [email protected]
NOTE: Joanie's Blue Crab Cafe traditionally closes for the month of September and reopens sometime in October. However, we're not sure if there was any damage from Hurricane Ian to postpone the opening date. We will post an update as soon as we have details.
Joanie's Blue Crab Cafe is known for its funky, rustic atmosphere and for having THE best blue crabs.
They also have incredible She Crab Soup, Crabcake Sandwich & Softshell, Gator Bites, Frog Legs, and Key Lime Pie.
TIPS:
In case you didn't know: Soft shell crabs, or "softies," are blue crabs that have recently molted their shells. Softshell crabs are harvested before they can regrow a new shell, so their skin is soft. Their entire bodies are edible: shells, claws, and all.
Try the tartar sauce! It's made with dill pickles and is delicious.
Check out the restrooms! They're as funky as the rest of the place.
Keep your eyes open for alligators.
If you go and want to share your photos on your social media pages, be sure to use #getcrabby.
Location: 39395 Tamiami Trl E, Ochopee, FL, United States, Florida Phone number: (239) 695-2682
2. Take an Airboat Ride through the Heart of the Everglades
One of the best ways to see the Everglades is via one of the many airboat tours. It's a once-in-a-lifetime experience to explore the largest subtropical wilderness and unique ecosystem. You never know what Everglades wildlife and animal species you will see.
Keep your eyes open for alligators, roseate spoonbill, snakes, and maybe a flamingo. It's a perfect place to create lifelong memories for the whole family.
An airboat trip looks a lot more intimidating than it actually is. If you've never been on an airboat ride, this is the easiest way to enjoy the natural beauty of the Everglades.
Buffalo Tiger Airboat Tours 29701 SW 8 St., Miccosukee Indian Reservation, Miami, FL 33196. 786-795-3487
Here are some other Airboat Tours in the Everglades we recommend:
Everglades Holiday Park Airboat Tours and Rides
17696 SW 8th St, Miami, FL 33194
888-893-4443
Everglades Airboat Expeditions
5334 FL-90, Miami, FL 33185
888-385-8687
Everglades Safari Park Airboat Tour
26700 SW 8th St, Miami, FL 33194
305-226-6923
TIPS:
Use insect repellent and sun protection, including sunglasses.
Wear comfortable light-colored clothing. Long sleeve shirts and trousers will keep the insects away. 
Protect your ears. Most airboat tours provide headphones.
Stay hydrated. Make sure you pack plenty of water for yourself and your family/friends.
Do NOT feed the animals.
Keep in mind, alligators are more afraid of you than you are of them.
3. Shop for the Freshest Florida Produce
There's no better place to pick up the freshest Florida produce than in nearby Homestead. Besides the usual (citrus, pineapples, watermelons, and mangoes), keep your eyes open for all sorts of exotic fruits you may not find in your grocery store.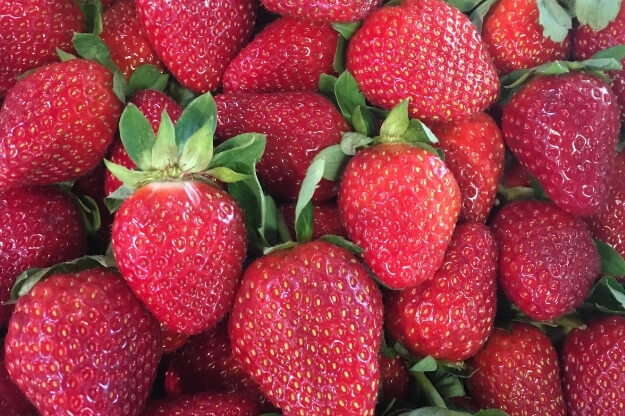 Carve out a pitstop for cinnamon buns at Knaus Berry Farm, a milkshake at Robert is Here, and a new addition for your home garden at Fruit & Spice Park.
When it comes to great things to do in the Florida Everglades, these three places should not be missed.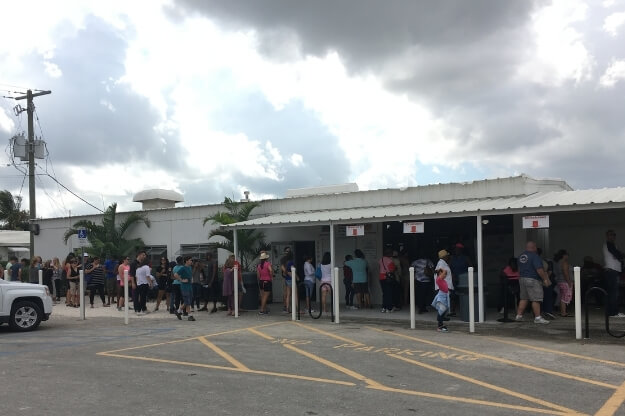 In 1956, two brothers (Ray and Russell Knaus) began growing strawberries in the Redland of South Florida. They set up a small roadside stand near the current Knaus Berry Farm location to sell their berries.
Over the years, they grew and grew —along with their strawberries. They started making assorted baked goods including infamous cinnamon buns and bread. Today, Knaus Berry Farm is also known for so much more including its vegetables and ice cream.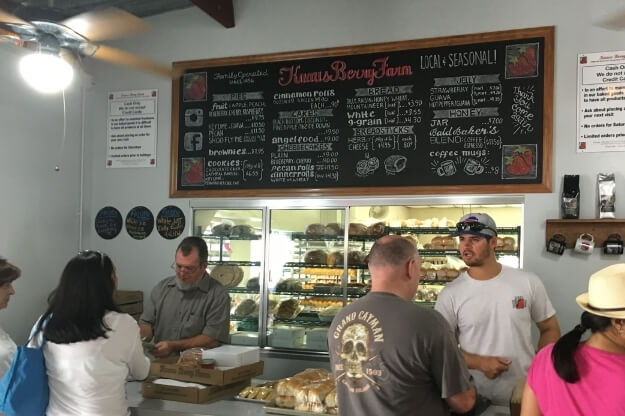 The locals say there are only two seasons in South Florida — when the Knaus Berry Farm bakery is open and when it's closed.
TIPS:
Bring cash! They do not accept credit cards.
Knaus Berry Farm is closed during the summer months.
Open every November through mid-April, during the Redland farming season of Miami-Dade County, Florida.
Don't miss their Cinnamon Rolls, Pecan Rolls, Strawberry Shakes & Herb Bread
U-Pick Strawberries & Tomatoes (call for availability)
Location: 15980 SW 248th Street, Homestead, FL 33031 Phone: (305)247-0668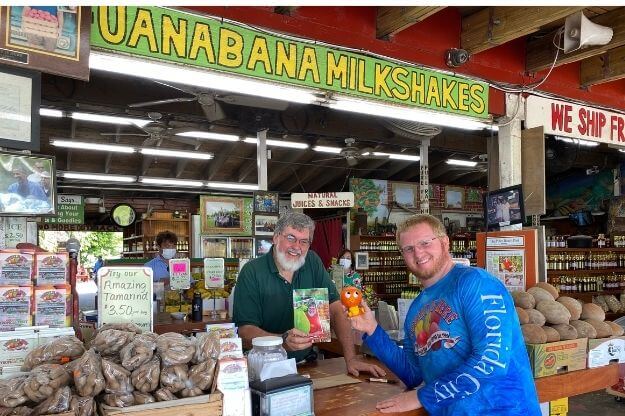 The 64-year-old fruit and vegetable stand is famous for its incredible selection of delicious and unusual produce, plus remarkable milkshakes.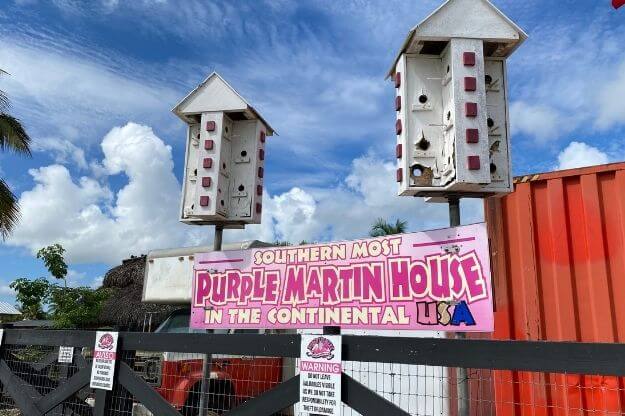 You can read all about "Robert is Here" here: Robert is Here … and Has Been HERE since 1959!
Go early – the parking lot is big, but fills up fast!
They specialize in rare and exotic fruits & vegetables. Go beyond your comfort zone and try something new!
Most of the produce is grown on their farm.
Robert is Here ships jams, jellies, relishes, hot sauces, and tropical fruits: https://www.robertishere.com/collections/all
All the shakes & smoothies are delicious!
Grab a sandwich and buy some lettuce to feed the animals as you walk around. 
Bring the kids! Animal Farm includes goats, turtles, chickens, iguanas, emu, tropical birds, and more!
This is a great place to stop for snacks on the way into The Everglades National Park!
Pick up a copy of the Robert is Here book and ask Robert (and his son) to sign it. You can order it online here.
Hours: 7 days a week, 9 am – 6 pm.
Location: 19200 SW 344th St, Homestead, FL 33034 Phone: (305) 246-1592
The Fruit & Spice Park is a 37-acre subtropical paradise nestled in the heart of the historic Redland community just 35 miles south of Miami.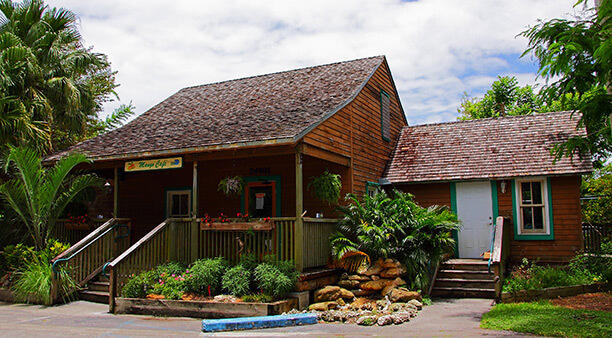 In addition to the gardens, the Park also maintains and showcases two original historic structures: the original one-room Redland Schoolhouse built in 1906; and a coral rock building built around 1913 as a laboratory for citrus canker research. 
October 7th – 9th: Redland International Orchid Festival
October 15th & 16th: GrowFest
December 4th: Redland Heritage Festival
May 19th & 20th, 2023: Redland Orchid Festival
TIPS:
Wear your walking shoes and check the weather before you go! The Park is an outdoor experience, with plenty of walking – plan accordingly.
Guided tours happen daily at 11 am, 1:30 pm, and 3 pm, weather permitting. Make reservations in advance.
Bring lunch! Picnic tables are available in the garden, but no grilling or coolers are permitted.
You can eat anything that falls off the trees.
Hours: 7 days a week 10 am-4 pm
Location: 24801 SW 187th Ave, Homestead, FL 33031 Phone: (305) 247-5727
4. Experience Old Florida at The Wonder Gardens
The Wonder Gardens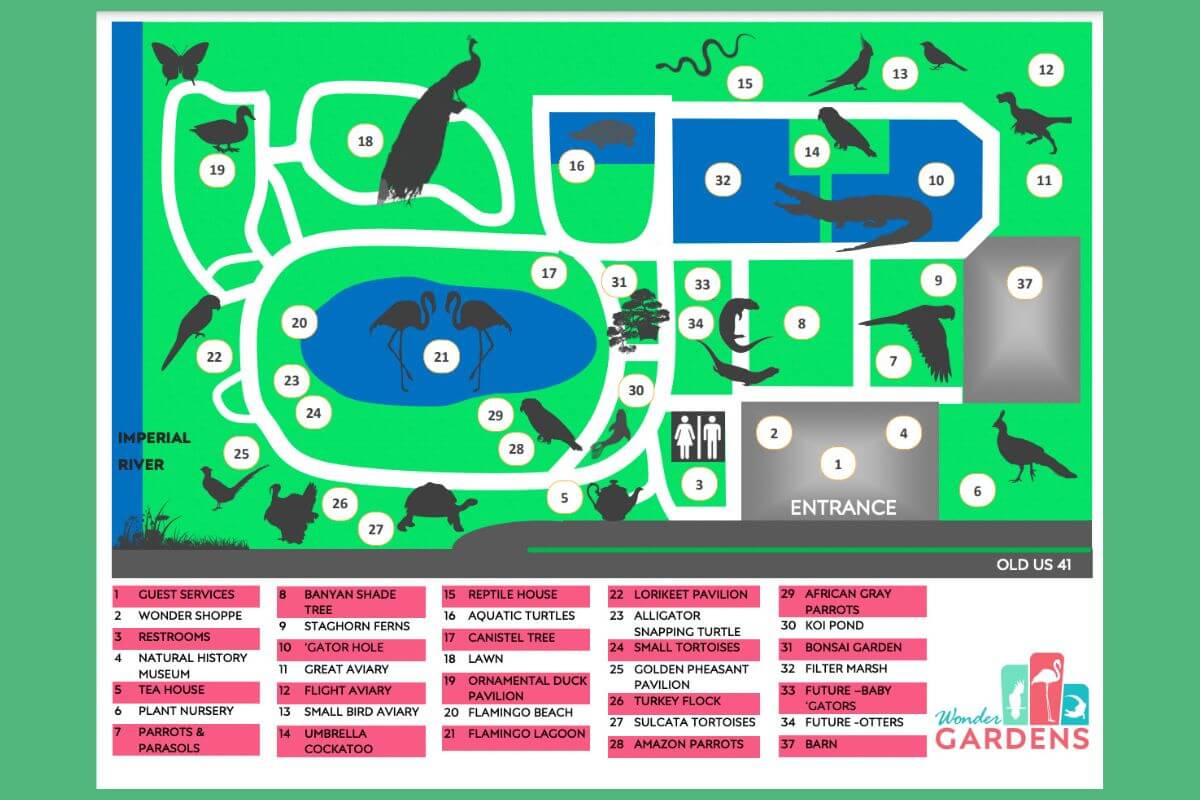 In 1936, the Piper family established The Reptile Gardens as a roadside attraction along the newly built Tamiami Trail from Tampa to Miami. As the animal and botanical exhibits grew, the attraction's name was changed to the Everglades Wonder Gardens.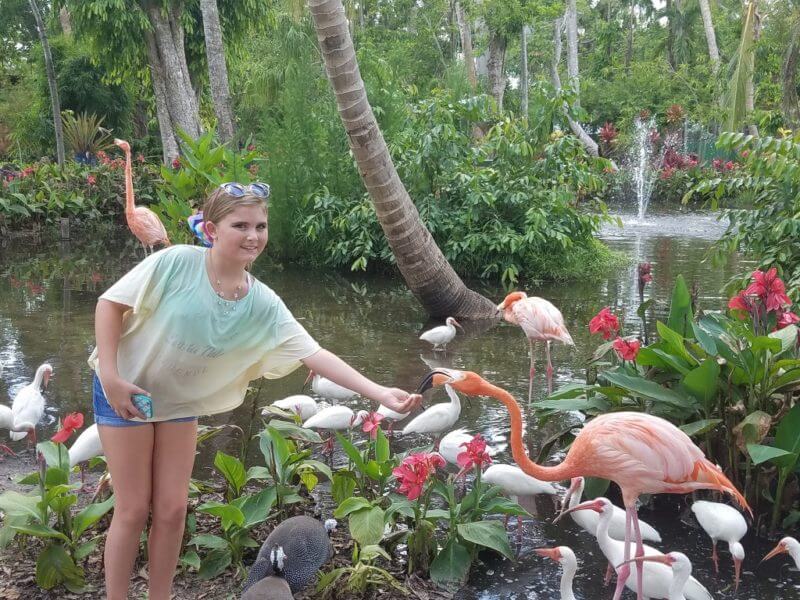 Everglades Wonder Gardens captures the nostalgia, history, and wonder of old Florida, augmented with tropical flora and fauna from around the world.
Today, The Wonder Gardens continues to inspire, educate, and engage the community and visitors with a one-of-a-kind experience. In fact, the botanical gardens are home to over 300 rehabilitated, unreleasable birds & reptiles.
TIPS:
Closed-toed shoes are required.
Plan to spend 2 or 3 hours walking through the lush gardens while viewing and interacting with the animals.
Book ahead! Animal Encounters must be booked in advance, with a minimum party of two / maximum of 6 (book online)
Animal Encounters: Meet and feed Sulcata Tortoises and Lorikeets!
Wild Wonders Encounters take place daily at 11 am.
Must be five or older to participate / 14 and under with an adult.
Alligator Interaction Experience: Feed American Alligators and enjoy fantastic photo opportunities in this fun. encounter experience. Alligator Interactions take place at 12:30 pm daily. Alligator Interactions must have a minimum of 2 participants and a MAXIMUM of 10 participants. Book ahead online!
Check out the small lake where flamingos and ibis congregate! Buy food, and you can feed them from your palm!
Stop by the gift shop where you can purchase unique Florida gifts and artwork.
They have offered yoga at the Wonder Gardens in the past.
Location: 27180 Old 41 Rd, Bonita Springs, FL 34135 Phone: (239) 992-2591
Please check with The Wonder Gardens before visiting. They were requesting volunteers to help with Hurricane Ian clean-up efforts.
The Big Cypress National Preserve should be on everyone's bucket list. To kick it up a couple of notches, just add the photographer Clyde Butcher experience into the mix.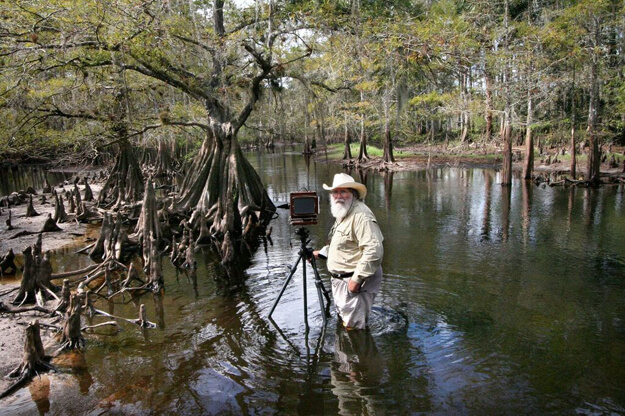 Clyde Butcher has an art gallery, several Everglades tours, and two unique places to stay in the Florida Everglades on this property in Big Cypress.
No trip to the Everglades is complete without at least a visit to his art gallery. His photography is absolutely breathtaking and clearly shows his love for the Florida Everglades for the past 40+ years.
Butcher has completed six Public Broadcasting programs on the environment of Florida, three of them award-winning documentaries.
Much of Clyde Butcher's work can be seen in his numerous books. You can order special limited editions on his website.
You can learn more about Clyde Butcher in this Authentic Florida article: Meet the "Ansel Adams" of Florida, Photographer Clyde Butcher.
TIPS:
Big Cypress Art Gallery featuring Clyde Butcher's photography is free. 
All Tours (Swamp Tours, Private Guided Tours, Photography Tours) should be booked in advance. More info here.
Info on the Bungalow & Cottage Rentals can be found here.
Overnight guests receive a 20% discount on Swamp Tours.
Location: 33100 Tamiami Trail E. Ochopee, FL 34141 Phone: (239) 695-2000
In homage to the fond memories we have throughout Southwest Florida, check out these articles:
I'm a journalist who specializes in investigative reporting and writing. I have written for the New York Times and other publications.